Tennis Elbow (Lateral Epicondylitis)
What is tennis elbow?
Tennis elbow (lateral epicondylitis) is a type of tendonitis (tendon inflammation) affecting the forearm and outer part of the elbow. People who perform repetitive movements of the wrist, and elbow. For example, carpenters, painters, or people lifting weights, or playing racquet sports are affected.
What are the symptoms of tennis elbow?
Tennis elbow symptoms generally include:
Pain around your outer elbow
Burning sensation in your outer elbow
Weakening grip
The diagnostic process for tennis elbow involves a hands-on exam of your elbow and forearm along with in-office X-rays. Dr. Vossoughi will gently manipulate your arm and evaluate your responses to determine whether tennis elbow is the likely problem.
Most patients with tennis elbow recover with conservative treatments such as anti-inflammatory oral medications, steroid injections, or using elbow splints. If you experience ongoing pain or do not respond to conservative treatment, you may need surgery. Dr. Vossoughi can expertly repair your damaged tendon. Following your surgery, physical therapy can help you build your strength and range of motion back to pre-injury levels.
If you have frequent elbow pain, stop what you're doing and seek expert help before it worsens. Katy Hand & General Surgery is ready to help.
Golfer's Elbow (Medial Epicondylitis)
A type of tendinitis that affects the elbow and forearm. This injury causes pain in the forearm tendons near the elbow, potentially spreading through your arm and down to your wrist. Golfer's elbow can occur in many different kinds of people due to repeatedly clenching the wrist and forearm muscles.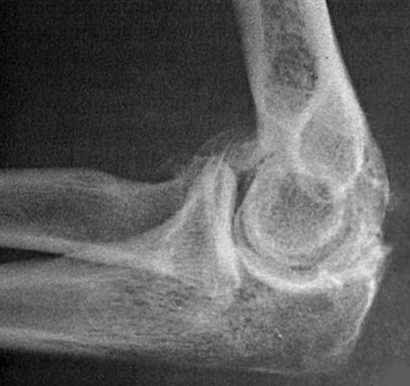 What is elbow arthritis?
Elbow arthritis is a degenerative disease of the elbow joint that is secondary to either osteoarthritis, trauma, or inflammatory disease due to autoimmune disease. Elbow osteoarthritis is most common in middle-aged men who have performed strenuous manual labor for many years.
What are symptoms of elbow arthritis?
progressive pain, usually at end range of motion
loss of full extension
painful locking or catching of elbow
After a complete exam of your elbow, Dr. Vossoughi will obtain in-office x-rays and will treat you depending on the results and your symptoms.
Bicep Tendon Rupture
What is a bicep tendon tear?
Rupture or tear of the distal biceps tendon occurs most commonly in the dominant extremity of middle-aged men when an unexpected stretch force is applied to the bent arm. The rupture typically occurs at the tendon insertion into the radial tuberosity.
What are the symptoms of Biceps rupture?
A painful, tearing sensation in the antecubital region and sometimes a palpable and visible deformity of the distal biceps muscle belly with weakness in lifting objects and bending the elbow.
Dr. Vossoughi would determine if an x-ray and MRI are necessary as diagnostic tools. Early surgical reattachment is recommended for optimal results. Dr. Vossoughi can expertly repair your torn tendon. Following your surgery, physical therapy is necessary to build your strength and range of motion back to pre-injury levels.
Olecranon Bursitis
What is bursitis?
A bursa is fluid-filled lubricated sac located between the bones and soft tissue such as tendons and muscle at the joint level, in order to reduce tension when moving the joint. Olecranon bursitis is inflammation and swelling of the bursa close to the elbow joint. It may be caused idiopathically ( we don not know the reason) or secondary to trauma.
What are symptoms of bursitis?
Pain, swelling, and sometimes redness, increased temperature at the level of the elbow.
How to treat bursitis?
Ice
Compression dressing
Anti-inflammatory medication
Sometimes the bursitis fluid needs to be evacuated in order to improve symptoms. The fluid may be clear, bloody, or cloudy (infected). Steroid injection or antibiotics treatment may be indicated depending on the diagnosis. After performing a thorough examination, Dr. Vossoughi will recommend the best treatment for you. In case of chronic bursitis or infectious bursitis surgical treatment may be indicated.